In this section
Valeting for Used Cars
There are many good reasons to have your vehicle valeted regularly, not at least to prevent the onset of rust and corrosion.
Why leave it for a special occasion when for a very reasonable cost you could be driving a vehicle that not only looks as if it has just had a face lift but be worth more when you decide to change it.
The type of vehicle you drive makes an important statement about the type of person you are.
A clean, well looked after car , for example, will attract favorable comments and will reflect well on its user. A dirty car will have completely the opposite effect. Valet Packages & Upgrades. Find out more here...
---
Sell your car today with our used vehicle valet
Getting your car looking its best before you show it to a potential buyer will help you sell it as quickly as possible and for the best price.
Apart from looking more attractive, a clean car sends out a good message about how well the car has been cared for. Find out more and sell your car today.....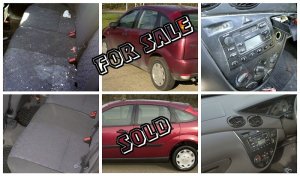 ---
Would you spend £130.00 for a valet and machine polish on this 1999 Ford Fiesta?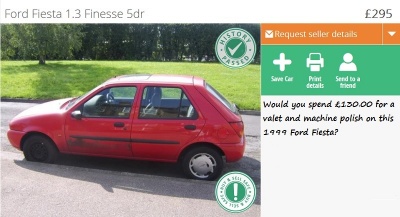 ---
Covering the UK including: Ayrshire, Basingstoke, Birmingham, Bristol, Cardiff, Cheltenham, Chesham-Buckinghamshire, Coventry, Devon, Dumfries and Galloway, Exeter, Glasgow, Gloucester, Leamington Spa, Liverpool, London, Maidstone, Manchester, Medway, Motherwell, Newport, Northampton, Nottingham, Oxford, Reading, Shropshire, Somerset, St Helens, Stourbridge, Swindon, Tadley, Taunton, Telford, Tewkesbury, Tonbridge, Walsall, Wakefield, Wales, Warrington, Watford, West Midlands, Wiltshire, and Worcester.
Mobile Car Valeting
Franchise Opportunity
Gift Vouchers
Perfect for Mothers Day, Fathers Day, Birthdays & Christmas
Questions?
Call 0800 0834 683
24 hours a day