Autovaletdirect Signwriting, Graphics and Decal Removal Services Undertaken page 1
Decal removal and polish ready for sale on Ford Transit for a Mr Morgan in Neath, Wales, SA11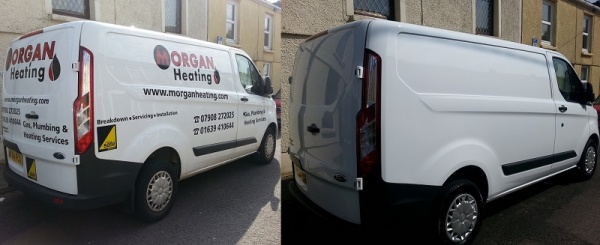 ---
Decal removal and machine polish to remove shadowing ready for sale on Renault Kangoo for Mr Jervis in Pensnett DY5.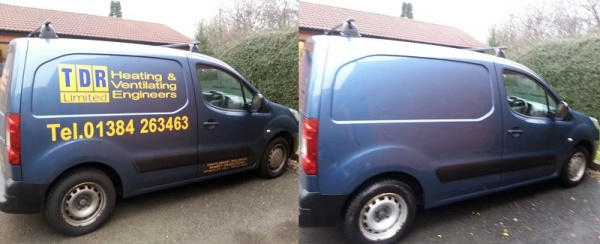 ---
"Very pleased with the result and information received about other valets Autovaletdirect can do"
Joanne – Teacher at Park View School, Birmingham.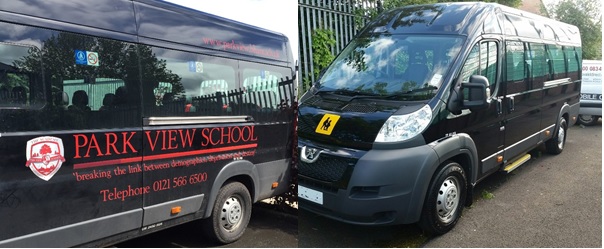 ---
Display trailer for the Royal British Legion

I was very pleased with the result and would want Paul to do the same again with other display trailers.
Mr Williams of Shard End, Birmingham.
---

"I'm very happy that all the signage was removed and how clean the car was both inside and out - very pleased!"
Mrs Tahera Hussain – Edgbaston, Birmingham.
---

"I was so impressed with the job Paul did in removing the graphics and cleaning the interior, it gave me second thoughts on selling the vehicle."
Julie Gardner – Solihull, West Midlands
---
Range Rover wrapped in black vinyl then de-wrapped back to original colour.

"I would like Paul to come back on a regular basis to look after my new car because I was so pleased with the de-wrap and valet received."
Mr Craig Farrell - Kirkby Mallory
---
Before and after decal removal from a Mercedes Sprint motorhome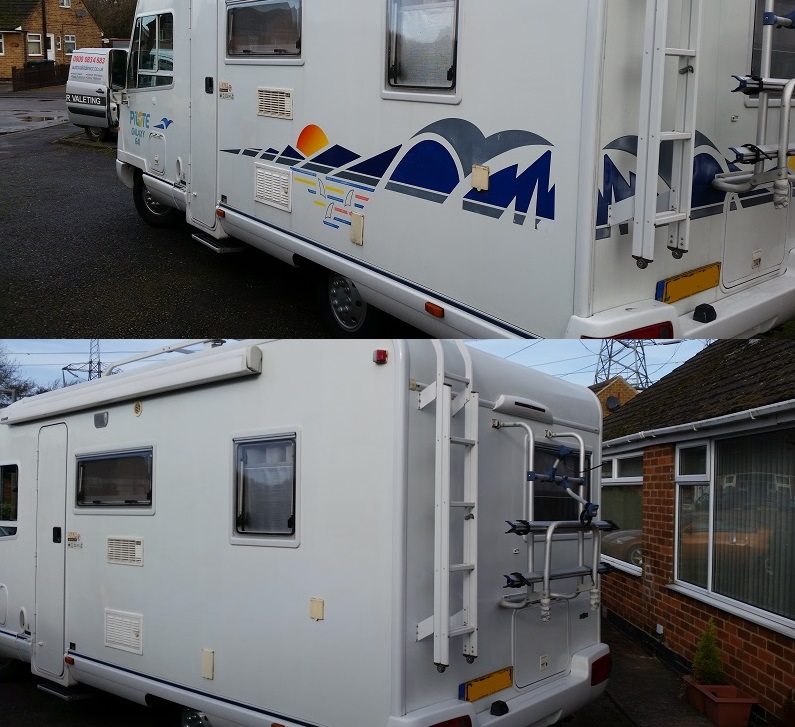 "Thank you Paul from Autovaletdirect for a job well done and will definitely recommended you for other work with my friends and workmates."
Mr Casey - Derby
---

"Very pleased with the sign writing removal results by Autovaletdirect and will happily pass on your services to my customers."
Mr Craig Wyken - CJ Mobile Caravan Services
---

Previous Page | Sevice Home Page
Covering the UK including: Ayrshire, Bedfordshire, Berkshire, Birmingham, Buckinghamshire, Cambridgeshire, Cheltenham, Chesham, East Sussex, Essex, Glasgow, Gloucester, Hampshire, Hertfordshire, Ireland, Isle of Wight, Kent, Liverpool, London, Maidstone, Manchester, Medway, Motherwell, Norfolk, Northamptonshire, Nottingham, Oxfordshire, Scotland, Somerset, Stourbridge, Suffolk, Surrey, Tewkesbury, Tonbridge, Wales, Warrington, West Midlands, West Sussex, Wiltshire, and Worcester.
Caravanbrite
Diamondbrite
Corporate Event Valeting
Contamination Removal
For public liability and motor insurers